Neutral Bath Foam
For protected and pleasantly soft skin after a restorative bath.
In different formulas:
with Liquid Cream
with Cosmetic Oils
with Organic extracts
Gardenia
A great classic of floral fragrances, with fresh and clean notes for an invigorating bath. Formula with Rice Milk, for a nourishing effect.
Talc and White Flowers
This Mantovani fragrance has been a reference point for years for fans of poudreè notes, intense and soft together, for a relaxing bath. Formula con liquid Talc.
Argan Oil and Jasmine
Enriched with Organic Argan Oil, it best offers the anti-oxidative and nourishing properties of this ingredient which maintains skin's tone and beautiful appearance. Jasmine fragrance, the floral touch of a fragrance that indulge eastern beauty rituals.
Nutriente
Latte di Karitè
Ingredienti per una pelle più morbida e liscia, con una profumazione di fiori e latte, molto femminile.
Rilassante
Lavanda e acqua di camomilla
Delicatezza e leggerezza ed una profumazione agreste dolcemente evocativa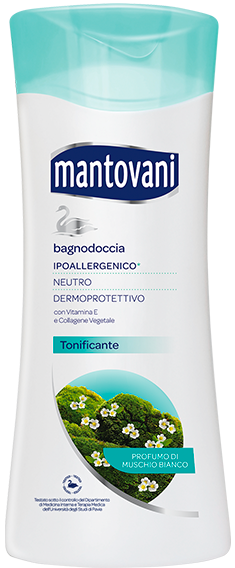 Tonificante
Profumo di muschio Bianco

Un classico delle note fresche e vitalizzanti, interpretato in una chiave più delicata.
Vanilla
Sweet and aromatic fragrance, restoring and relaxing, a gentle note on skin. Formula with Yogurt Protein, which helps to maintain skin's physiological balance.
Cherry Blossom
A sophisticated and elegant floral bouquet, intensely soft. Formula with Acacia Milk with dermo protective properties.
3 Cosmetic Oils
Contains sweet Almond Oil, Camellia Oil, and Macassar Oil, nourishing and rehydrating mix which enhances skin's tone, softness, and shine. Fragrance with eastern, charming, and relaxing tones.
Childhood memories
Perfumes sensed when we are children remain with us as an intimate memory. The evocative note of talc flavoured with sweet fragrances of biscuit and milk, awakens this memory and the formula with sweet Almond Oil is ultra-delicate on skin.
Aloe and Avocado water
A gentle cleansing combined with a pleasantly emollient effect, hydrated, soft and smooth skin, a super creamy fragrance for a super satisfying cosmetic experience.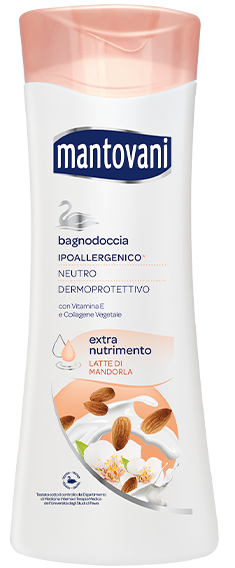 Nutrimento
Latte di mandorla
Profumo gustosissimo di mandorla avvolta in un morbido bagno di latte, più un'azione nutriente.
Tea and Cucumber Extracts
It offers a revitalizing effect together with a cleansing respectful of the skin balance. The fragrance is pleasantly refreshing, with aquatic, green and fruity tones.
Black Vetiver
Enriched with Keratin and trace elements, naturally revitalising substances for a re-energising bath. The Vetiver fragrance is a classic of male perfumery, with woody and green tones, here harmonised with citrusy and spicy notes.