Neutral Shower Foam
For protected and pleasantly soft skin after a shower.
In different formulas:
with Liquid Cream
​​​​​​​with Organic Cosmetic Oils
With Liquid Cream
For a soothing effect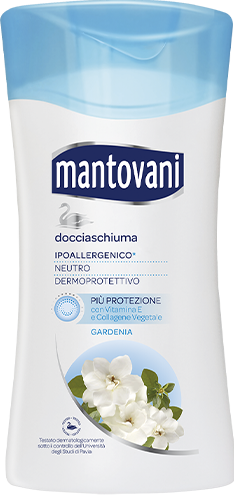 Gardenia
A great classic of floral fragrances, with fresh and clean notes for an invigorating shower. Formula with Rice Milk, with soothing and nourishing properties.
Talc and White Flowers
This Mantovani fragrance has been a reference point for years for fans of poudreè notes, intense and soft together, for a relaxing shower. Formula with Liquid talc.
With Cosmetic Oils
To nourish and tone skin
Argan Oil and Jasmine
Enriched with Organic Argan Oil, it best offers the anti-oxidative and nourishing properties of this ingredient which maintains skin's tone and beautiful appearance. Jasmine fragrance, the floral touch of a fragrance that indulge eastern beauty rituals.